Added member, Ryan Verbis – Feb 17, 2011
Update to Dolly Verbis Profile – Feb 13, 2011
Verbis Family facebook added – Feb 10, 2011
Verbis Family member updates – Feb 8, 2011
3.05 WP Version Installed – Feb 5, 2011
3.0.1 WP Version Installed – Aug 21, 2010
Database backup & root fix – Aug 20, 2010
2.9.4 WP Version Installed – May 10, 2010
Pardon our dust, we're updating the site…. – June 11, 2009
Verbis.info restored & rebuilt from back-up files – June 1, 2009
view site update report
——————————————————————————————————————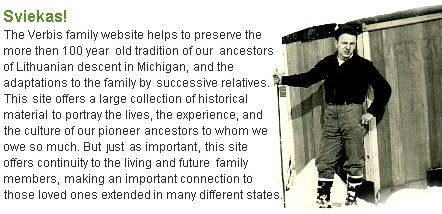 ………………………………………………………………………………………………………..
We Need Your Support:
Genealogy involves a lot of time, labor, vigor, and research. However, think of it as a jig-saw puzzle. You are taking pieces of information that you discover and then trying to assemble them to create the final picture. That picture is an entire history of your family from present to farther back in history than you might imagine. Those pieces come in the form of birth/death certificates, pictures, letters, marriage licenses and more. One of our biggest and greatest endeavors in the search for information is the compilation of data and contributions from family members, friends, and volunteers. We encourage you to participate with your knowledge and collections of family members from past and present.
………………………………………………………………………………………………………..
How-To Contribute:

1. Email information: stories, pictures, articles, etc. to verbisfamily@cox.net
2. Post comments, replies, information on the comment section of each page
3. Post info, comments, dialogue on the Forum Page which is open to the public.
4. Submit a comment from the Contact Page.

About This Site:
The purpose of this site is to collect, preserve, and disseminate knowledge and information about our family's genealogy. The database sources are compiled from church parish records, interviews, cemetery records, obituaries, census records, military documents, and more. The majority of the data on this site has been organized and distributed by Andrew Anthony Verbis and Donald Anthony Verbis. Much of the genealogy collected about the Saliers has been contributed by Clair L Saliers, and research by the late Dr. Earl A Saliers. The information published on this site is correct to the best of our knowledge. Some information that is based on investigative theory with some form of creditable historic evidence may be shown with an asterisk. In order to maintain a high level of authenticity and credibility, if you have knowledge of any inaccurate data published herein, please communicate your findings with us. This site is a work in progress.
………………………………………………………………………………………………………..
Lithuanian History:
Between the 7th and 2nd centuries BC, Baltic tribes established themselves on what is presently known as Lithuanian territory. Lithuania and Latvia are the only remaining Baltic tribes (Prussians, Latgalians, Sudovians, Curonians, Selonians, Samogitians, Nadruvians, Galindians and more) from this period. The name of Lithuania, however, did not appear in European records until 1009 AD, when it was mentioned in the German manuscript Annals of Quedlinburg. During the period 1236-1263, Duke Mindaugas united the various Baltic tribes and established the state of Lithuania, which was better able to resist the eastward expansion of the Teutonic Knights. In 1253, Mindaugas embraced Christianity for political reasons and accepted the crown from the Pope of Rome, becoming the first and only true king in Lithuanian history.
After the assassination of Mindaugas and the ensuing civil war, Grand Duke Gediminas took control of Lithuania. He reigned from 1316 to 1341, during which the long-term expansion of Lithuania into the lands of the eastern Slavs began. He founded the modern capital city of Vilnius and started the Gediminas dynasty, which ruled Lithuania until 1572.
During the period of Vytautas the Great (1316–1430), Lithuania was the Largest country in Europe occupying the territories of present-day Belarus, Ukraine, Poland and Russia and stretching from the Baltic Sea to the Black Sea. A royal crown had been bestowed upon Vytautas in 1429 by Sigismund, the Holy Roman Emperor, but Polish magnates prevented his coronation by seizing the crown as it was being brought to him. In 1410, the armies of Poland and Lithuania together defeated the Teutonic Order in the Battle of Grunewald, the biggest battle of medieval Europe.
< Read More >